Sep 25 2012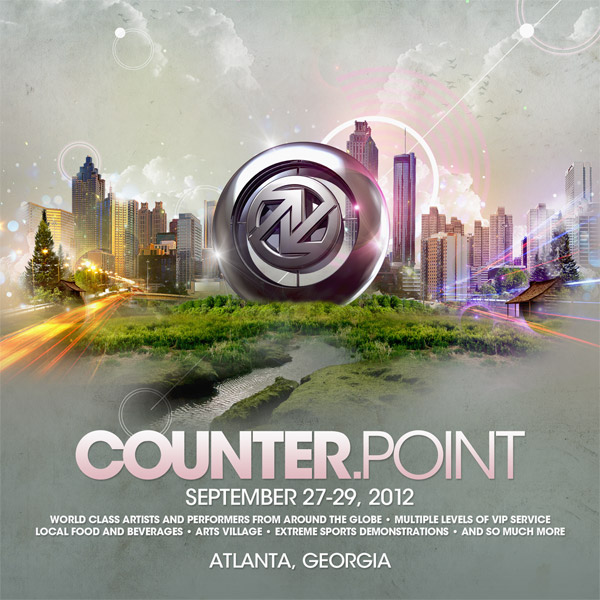 Is there a better way to end "Festy Season" then with performances by Pretty Lights, Skrillex, Avicii, Bassnectar, and just about every other relevant name to the booming edm scene? Curated Music does not think so!
"CounterPoint is a new three-day music and arts festival, in Atlanta, Georgia September 27 – 29, 2012. The multi-stage festival with camping options is held at the location of 2007's The Echo Project, a 350-acre, scenic Chattahoochee river front property just south of metropolitan Atlanta."
The inaugural CounterPoint promises to be massive. We are looking forward to catching sets by the biggest lineup in the business all the while submerging ourselves in a festival that promises large, beautiful art exhibits, adrenaline pumping carnival rides, and an insane silent disco.
The sets that we suggest you not miss this weekend include:
Pretty Lights Music Showcase featuring: Gramatik, Michal Menert, SuperVision, Paul Basic: Sat. 6:15pm-10:15pm @ BackBeat Tent

Big Gigantic: Thurs. 10:15pm @ Beat Tent

Lotus: Sat. 8:45pm @ Beat Tent

ZOOGMA: Sat. 1:15pm @ Point Stage

HeroBust: Sat. 1:30pm @ Beat Tent

Well, all thats left to do is pack up and hit the road! If you don't have your tickets and/or you just want to stay conected to CounterPoint Music Festival check out:
www.counterpointfestival.com
www.facebook.com/cntrpntmusic
www.twitter.com/cntrpntmusic