Jan 18 2013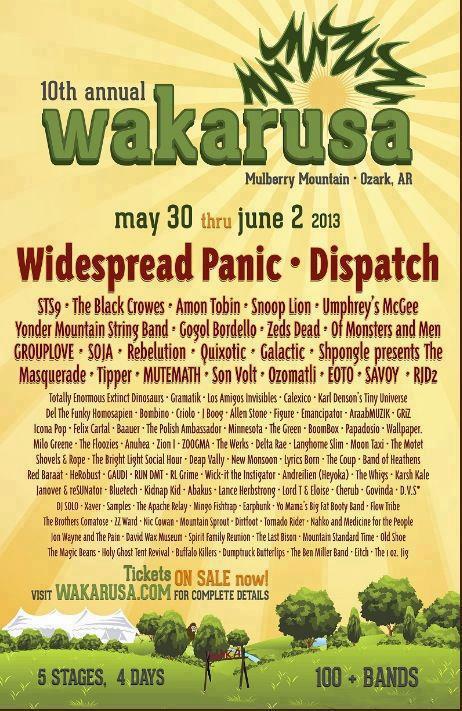 Each May, our excitement builds with plans of traveling deep into the abyss of the Appalachians to explore Mulberry Mountain and it's landmark, prolific, and now 'decade-old' Wakarusa Music Festival. Hosted by the great minds of Pipeline Productions, Wakarusa is more than just your average run-of-the-mill Summer camping festival, Waka offers much more.
With careful precision and detailed selection, the lineup for Wakarusa has grown to be one of the most original, unique, and simply put 'large' festival lineups in all of the US. For 2013, they have busted the locks on all the cages and set the beasts free. Boasting headliners Widespread Panic, Dispatch, STS9, The Black Crowes, Amon Tobin, Snoop Lion, and Umphrey's McGee the eclectic talent spreads to all genres and will make any fan of festival music aroused. Perhaps, that is just the icing on the cake though.
One of our favorite attributes of Wakarusa is the fact that they have a keen sense for booking the next big up-and-coming performers. From launching the festival career of Pretty Lights, to providing a touring stop for artists buzzing in the underground scenes of each genre, Wakarusa is the ideal event to expand your musical tastes and knowledge. This Summer will follow suite with potential future headliners like GRiZ, HeRobust, RL Grime, Wick-it the Instigator, Baauer, Cherub, The Werks, and Zoogma commanding a chunk of the vibrant lineup.
On top of all of this, the environment at Wakarusa cannot be duplicated. Tucked away on top of the gorgeous Mulberry Mountain in the Appalachian hills of Arkansas, there is always time to stop, sit, and admire nature (or take a swim in the river). If you add it up, you are left with no choice: buy your tickets now, or you will be left out! Seriously, you don't want to regret missing the beast that has grown to be Wakarusa Music and Camping Festival 2013. Well, now we are brought back to the fact that it is only mid-January. The anticipation has set in. We are wired for Waka.
We will continue to update you on Wakarusa 2013 announcements and news. You can also find the information onWaka's website (www.wakarusa.com). You can purchase your tickets to Wakarusa now. Check out the Wakarusa Official 2013 Preview Video below as well as the full lineup.


Full Lineup:
Widespread Panic
Dispatch
STS9
The Black Crowes
Amon Tobin
Snoop Lion
Umphrey's McGee
Yonder Mountain String Band
Gogol Bordello
Zeds Dead
Of Monsters and Men
GROUPLOVE
SOJA
Rebelution
Quixotic
Galactic
Shpongle presents The Masquerade
Tipper
MUTEMATH
Son Volt
Ozomatli
EOTO
SAVOY
RJD2
Totally Enormous Extinct Dinosaurs
Gramatik
Los Amigos Invisibles
Calexico
Karl Denson's Tiny Universe
Del The Funky Homosapien
Bombino
Criolo
J BOOG
Allen Stone
Figure
Emancipator
AraabMUZIK
GRiZ
Icona Pop
Felix Cartal
Baauer
The Polish Ambassador
Minnesota
The Green
BoomBox
Papadosio
Wallpaper.
Milo Greene
The Floozies
Anuhea
Zion I
ZOOGMA
The Werks
Delta Rae
Langhorne Slim
Moon Taxi
The Motet
Shovels & Rope
The Bright Light Social Hour
Deap Vally
New Monsoon
Lyrics Born
The Coup
Band of Heathens
Red Baraat
HeRobust
GAUDI
RUN DMT
RL Grime
Wick-it the Instigator
Andreilien (Heyoka)
The Whigs
Karsh Kale
Janover & reSUNator
Bluetech
Kidnap Kid
Abakus
Lance Herbstrong
Lord T & Eloise
Cherub
Govinda
D.V.S*
DJ SOLO
Xaver
Samples
The Apache Relay
Mingo Fishtrap
Earphunk
Daft Phunk: Earphunk performing Daft Punk Live
Yo Mama's Big Fat Booty Band
Flow Tribe
The Brothers Comatose
ZZ Ward
Nic Cowan
Mountain Sprout
Dirtfoot
Tornado Rider
Nahko and Medicine for the People
Jon Wayne and The Pain
David Wax Museum
Spirit Family Reunion
The Last Bison
Mountain Standard Time
Old Shoe
The Magic Beans
Holy Ghost Tent Revival
Buffalo Killers
Dumptruck Butterlips
The Ben Miller Band
Eitch
The 1 oz. Jig
Wakarusa on Facebook
Wakarusa on Twitter