Jan 11 2013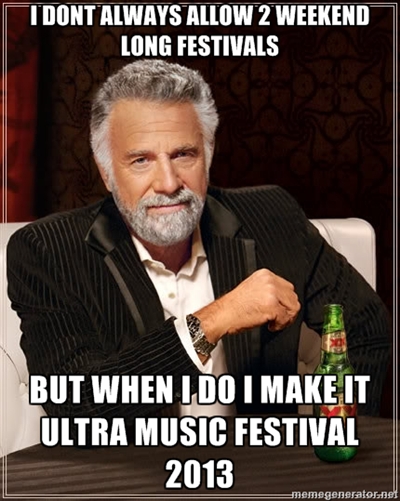 If you haven't heard, Ultra Music Festival recently found themselves caught up in some tricky politics as The City of Miami attempted to put a halt to the second weekend of UMF 2013. This is the first year that UMF has expanded to a double weekend festival and if Ultra's track record stays to par, the festival will benefit the City tremendously. Ultimately, the City of Miami decided in favor of the second weekend of Ultra Music Festival 2013 and the party will go on as planned. Well, maybe a bit larger than planned. Below we quote the UMF Facebook post regarding the whole matter:
"Yes, it's all systems go and we are moving full steam ahead!!! ULTRA Music Festival will make history in 2013 as the world's first ever ELECTRONIC music festival to take place over two weekends on March 15-17 and March 22-24 in celebration of our 15 Year Anniversary.

We appreciate the incredible support of the city of Miami Commission, Mayor, Bayfront Park Management Trust, and Fire and Police Departments, as together we have implemented a logistical plan that addresses everyone's concerns, including those of local residents and businesses, allowing us to move forward and focus on producing the first rate, world class event ULTRA has become.

We're extremely excited about the double-weekend celebration that will take place at the world's most beautiful event location, Bayfront Park & Biscayne Blvd, in the heart of the Magic City, Downtown Miami.

As we enter our 15th year, and approach a complete SELL OUT of all 330,000 available tickets, those of you lucky enough to attend can expect ULTRA's strongest and most diverse lineup to date, with an unparalleled level of production never before seen at a festival of this magnitude. As has become our signature, ticket holders can expect a wide array of surprises, including the possibility of unannounced mega artist appearances!

ULTRA Music Festival is proud to be the World's Premier Electronic Music Festival, and we would like to thank all of the artists, managers, agents and most importantly, THE FANS, who have contributed to making ULTRA a focal point of the strongest musical and cultural movement on earth. ULTRA 15… HERE WE GO!!!"
All of this news is very exciting, especially since this may actually be the summer that Daft Punk comes out of hiding. For now, we can all be the kid before Christmas while we await more news from the UMF camp. You can purchase your Ultra Music Festival 2013 tickets now from the UMF website.
Watch the UMF 2013 Teaser Now On YouTube:
[youtube http://www.youtube.com/watch?v=ZzoLBGgHSZQ&w=560&h=315]