Dec 7 2012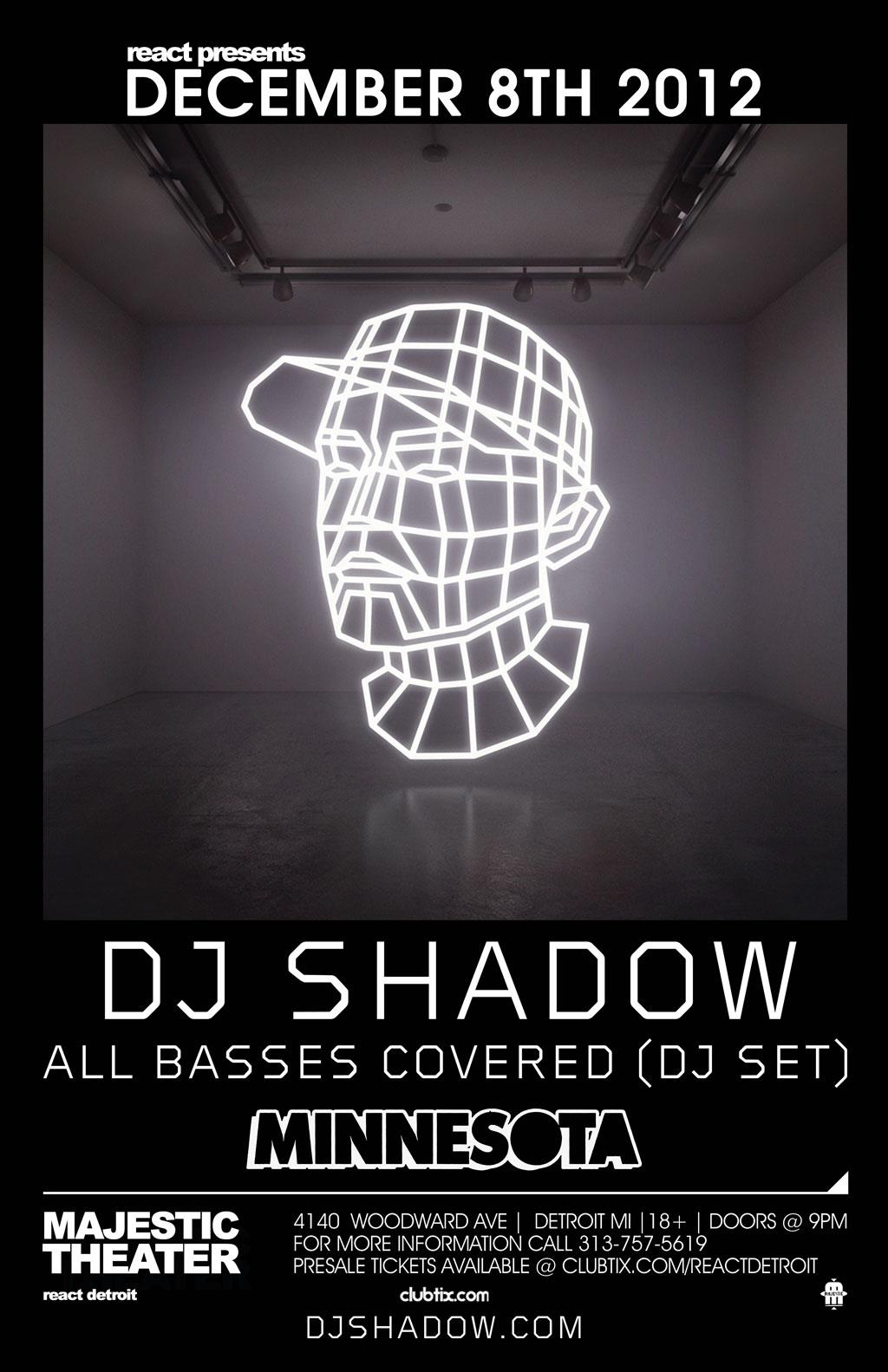 It's drawing closer to the night when Josh Davis, better known to the world as DJ Shadow, will take the stage in Detroit for the first time since his 2011 visit to DTE Energy Music Theatre for Identity Festival.
Dj Shadow, a pioneer in the hip-hop & electronic community, has been on top of his productions since the early 1990's and has even been credited as the creator of the musical style, trip-hop, a genre that is the result Shadow's sounds emphasizing an electronic vibe on a hip-hop beat. Creating his first full-length album, "Endtroducing…" from all samples, DJ Shadow quickly gained a reputation as a sample king. sampling records and taking pick from his acclaimed 50,000+ record collection, DJ Shadow has been able to stay relevant not only to the edm scene, but to the hip-hop community for nearly two decades.  DJ Shadow's sound has evolved over the years, incorporating different elements from different genres, and experimenting with different noises. DJ Shadow's sounds and profile has landed him on multiple international charts & has earned him many distinguished awards. DJ Shadow is a prolific producer and an iconic DJ, his influence can be heard across the genre spectrum of music today.
Do not miss DJ Shadow when he comes to Detroit tomorrow, December 8th, 2012 to The Majestic Theatre. His "All Bases Covered" set promises to pack some punches and surely will have some surprises in store for the crowd. Joined by Minnesota (who just got off touring with Zion-I), and Shigeto, with Dronez opening the night up. Produced by our friends at React Detroit, tomorrow night is absolutely going to be one of those shows that you will regret missing.
Curated Music will be sitting down with DJ Shadow before the show for another episode of Curated Conversations. Be sure to keep your eyes out for that to be released in the coming weeks!
REACT DETROIT PRESENTS: DJ Shadow with Minnesota & Shigeto • 12/8, 9 p.m. • Majestic Theatre • 4140 Woodward Ave., Detroit • 313.833.9700 • 18+ • $20 •
Tickets –> http://www.clubtix.com/reactdetroit/dj-shadow–minnesota–detroit-tickets-148881?p=6758562154e8a587bef297

Listen to "Reconstructed: The Best of DJ Shadow (Deluxe)":

-H