Aug 7 2012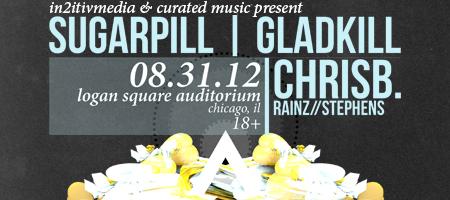 IN2ITIVMEDIA AND CURATED MUSIC PRESENT – HEADTRON : SUGARPILL, GLADKILL, CHRISB.
Logan Square Auditorium
August 31, 2012
in2itivmedia and Curated Music have teamed up to proudly present Headtron on the night of August 31, 2012 at Logan Square Auditorium in Chicago, IL.  These three highly talented and energetic musicians make their collective mid-west debut.
VENDING AT THE SHOW WILL BE :
GRASSROOTS CALIFORNIA (http://grassrootscalifornia.com/)
KUSH MINDED CLOTHING (http://www.KushMinded.com/)
+MORE TBA
——————————————————
~SUGARPILL~ 
http://sugarpillmusic.com/
————Specializing in bouncing bass, sideways beats and sweet melodies, Sugarpill is a master of both the creation and delivery of polytemponic glitch bass. Residing in Los Angeles yet living in a twisted world of sound, this young artist stays dosed to the eyelids in chopped-up samples, meticulously tweaked beats and obese waves of bass.Sugarpill seamlessly merges his techy sensibility and immaculate production skills without ever losing the inherent sexiness of the beats, and this multidimensional musical approach unites EDM fans across a vast spectrum of genres. His original tracks combined with explosive live sets confirm for the producer a powerful spot at the forefront of West Coast future sound. Crossing genres effortlessly and employing a rich variety of styles, his lively and intense sound is best described as a party- and that is exactly what Sugarpill brings to the dance floor.—————————————————————————————–
—————————————–

~GLADKILL~
http://gladkill.com/
http://www.facebook.com/gladkill
———–Boris Gladkikh aka Gladkill has been on a meteoric rise in the electronic music scene since he first began playing live in 2009. Through his tremendous work ethic and tireless touring schedule, Gladkill has already played for massive audiences on the stages of large-scale music festivals such as Coachella, Lightning in a Bottle, Earthdance and Burning Man, winning over new fans with every stop. When you listen to Gladkill's songs or see him perform, you'll discover an artist set apart between the sheets of cool bass lines and ethereal melodies. In an era where disposable dance music is big business, Gladkill makes anything but.
—————————————–
~CHRISB.~
http://chrisbsound.com/
http://www.facebook.com/ChrisBsound
————Over the last two years, the original sounds of Los Angeles-based producer ChrisB. have taken the underground electronic music scene by storm. Drawn to music at an early age, Chris always had an instrument in his hands while embracing everything from hip-hop and funk, to jazz and classic rock. His passion for songwriting lead him to playing guitar in bands throughout his formative years, but it wasn't until being exposed to the cutting-edge sounds of electronic music that he realized his true creative calling.Always eager to push himself, this charismatic producer spends countless hours in the studio sharpening his own production skills, where his notoriously deep and sensual soundscapes take over the dance floor. But don't get it twisted, it's not all chocolates and silk panties. Armed with a voracious appetite for exploring new sounds, ChrisB. can set any party off with his glitchy, crunk-heavy beats and hard-hitting 808's. Always striving to strike the perfect balance in his live sets, ChrisB. takes listeners on a psychedelic journey of beautiful melodies and driving bass.———————————————————————————————
—————————————–
w/support from in2itiv media's own :
~RAINZ~
http://www.facebook.com/MaxRainz
21 yr old producer/dj based out of the midwest. Currently knee deep in bringing people together through bass music and outrageous dance parties. Very excited to promote the bass culture in the midwest and share his unique style with everyone.
————————————
ALSO FEATURING – "ANCIENT VIBRATIONS" : AN ALL ORIGINAL STAGE DESIGN BY IN2ITIV MEDIA INCLUDING CUSTOM LIGHT INSTALLATIONS!!
For more information visit  http://www.facebook.com/in2itiv. http://www.facebook.com/CuratedMusic
Logan Square Auditorium
2539 North Kedzie Boulevard
Chicago, IL 60647
(773) 252-6179