Aug 29 2012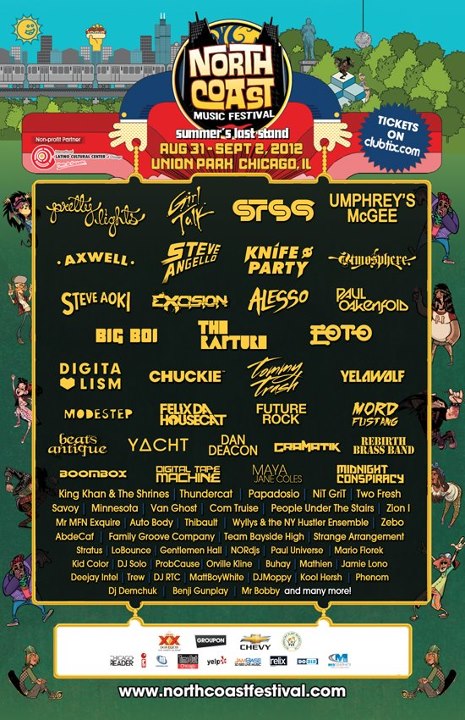 Curated Music is on the road again…
This time, we are heading to Chicago for North Coast Music Festival. We look forward to all of the artists on the festival lineup and for all of the amazing after parties. Hurry up and get your tickets before they are ALL gone. We look forward to seeing everyone this weekend. In case you need more information, check out these words from the festival:
11 Helpful North Coast Nuggets
Bike Parking: North Coast partnered with The Bike Lane to provide a bike parking lot located on Warren and Ashland. They also offer basic maintenance.
Check the Schedule: The performance schedule is now final, but if you were planning on seeing Excision, Alesso, Beats Antique, Yacht or Minnesota, please make sure you review the schedule as there have been some changes.  We don't want you to miss anything.
NCMF App: The North Coast Music Festival Mobile App is available for iPhone and Android. Download it now for the most updated schedule and information on the fest!
VIP Upgrade Available: That express entry looks nice, doesn't it? Oh wow, and cheaper drinks too. And look how close the VIP Viewing is too each stage? Yes, we know. That's why you can upgrade to VIP in the festival, just outside the VIP entrance.
Official NCMF Merch + After Party Tickets: We've got some killer new merchandise from some of the best designers in Chicago, so don't forget to stop by! We're selling tickets to the after parties at our booth, with no service fees!
Pick up your tickets early: General Admission and Groupon ticket holders can pick up their tickets early, starting on Thursday from 3 PM to 9 PM on site! Check out the will call page for more info!
Lock it up: Entertainment Lockers are located near the main entrance for safe and secure keeping all weekend!
Do's and Don't's: Empty plastic containers and camelbacks are allowed, so please stay hydrated! Before you leave for NCMF, make sure to check what is and is not allowed in the festival here.
Media: You'll be checking in just south of the main entrance on Ashland Ave! We're excited to have you back, and can't wait to hear about your experience!
Sponsors: Remember to stop by our sponsors booths! Without them, none of this would be possible, so please say hello!
Tickets: Still haven't bought your tickets and need convincing? Check out the lineup!
SEE YOU AT NORTH COAST MUSIC FESTIVAL!